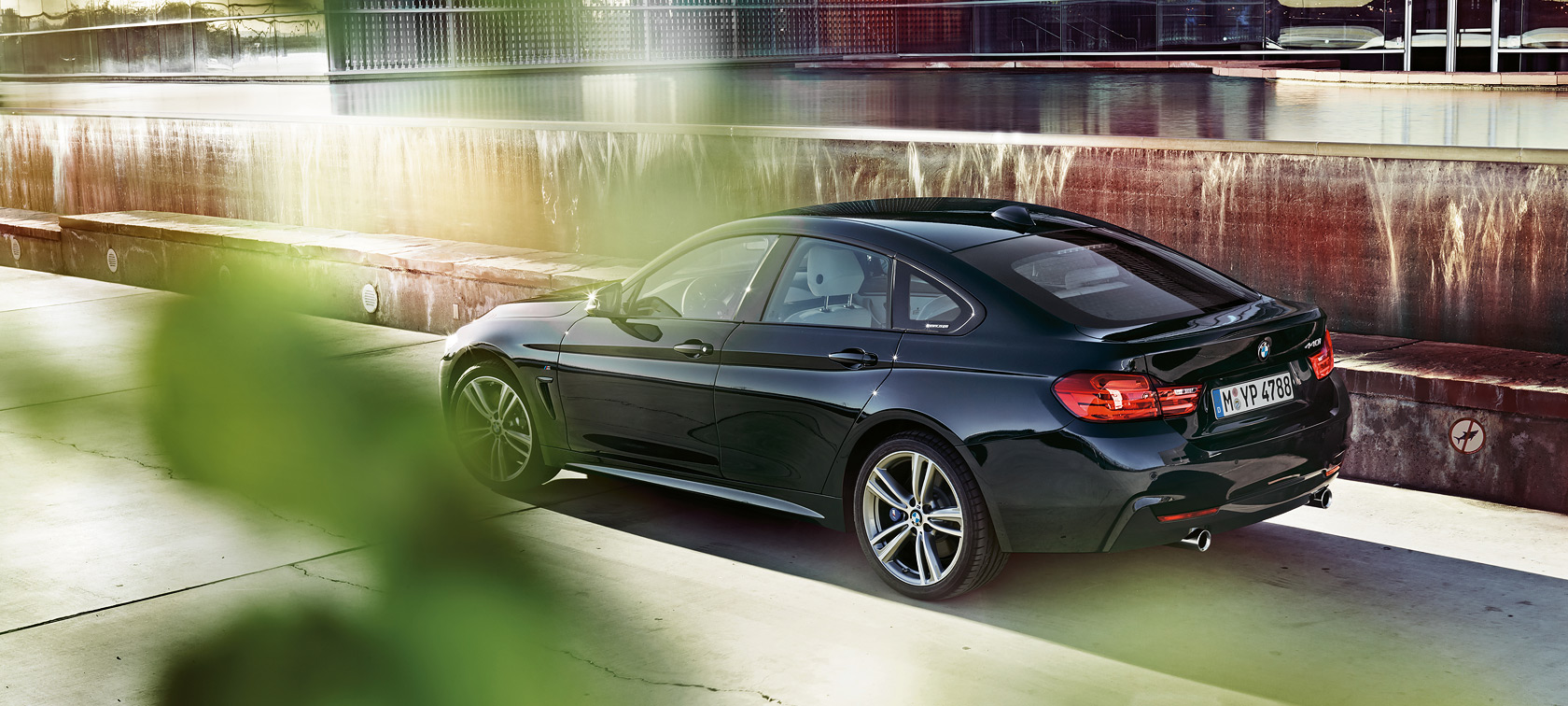 DESIGNED FOR DRIVING PLEASURE.
| | |
| --- | --- |
| Highest velocity in km/h (440i) | |
| Max. output in kW (h.p.) at 1/min (440i) | |
| Acceleration 0–100 km/h in s (440i) | |
| | |
Exterior.
The BMW 4 Series Gran Coupé is unmistakable at the very first glance. Characterised by dynamics and aesthetics, it embodies natural elegance. This impression is reflected in each and every line, and is particularly striking when the vehicle is viewed from the side. Thanks to the elongated roof line, the perfectly formed coupé silhouette appears to be even more streamlined, more elegant and, at the same time, even more athletic. Together with the four doors with frameless windows and the large one-piece tailgate, this underlines the perfect interplay between everyday functionality and sporty expressiveness.
Interior.
As on the outside, the interior of the first-ever BMW 4 Series Gran Coupé offers a perfect combination of elegance and functionality. This is demonstrated by the exclusive materials and colours used as well as the elevated driver orientation: Each operating element is ergonomically positioned to the driver's best advantage and all surfaces and details exude a feeling of luxury and vitality. The doors with frameless windows enhance the impression of roominess inside the BMW 4 Series Gran Coupé – also in the rear, which offers 2+1 rear seating and plenty of head room and leg room. At the same time, the wraparound design of the rear seats give rise to a comfortable and harmonious feeling of space.
Driving Dynamics.
The driving characteristics of the BMW 4 Series Gran Coupé combine top performance with optimal comfort. BMW typical features such as perfect weight distribution between the axles, rear-wheel drive or Driving Experience Control guarantee unbeatable driving pleasure. Driving dynamics are further enhanced by the optional Adaptive M suspension. And with variable sport steering, you are guaranteed to rule even the tightest of bends.
190 kW.
The BMW 430d impresses with top performance, rapid power build-up and low fuel consumption. Even in the low rev range, 560 Nm of torque is available. Extremely smooth and with spontaneous responsiveness, the engine produces 190 kW (258 hp), which guarantees remarkable thrust. This enables the BMW 4 Series Gran Coupé to accelerate to 100 km/h from a standing start in just 5.6 seconds (xDrive Steptronic transmission: 5.3 s), with a top speed of 250 km/h (limited), average fuel consumption of a mere 5.3 to 5.1 l/100 km (xDrive Steptronic transmission: 5.5 to 5.3 l) and CO2 emissions of 139 to 134 g/km (xDrive Steptronic transmission: 145 to 140 g/km).
The BMW 435d xDrive boasts power of 230 kW (313 hp) and 630 Nm of torque, with fuel consumption of 5.7 to 5.6 l/100 km and exemplary CO2 emissions of just 150 to 146 g/km. The BMW 4 Series Gran Coupé can accelerate from 0 to 100 km/h in a mere 4.8 seconds and has a top speed of 250 km/h (limited).

THE BMW 4 SERIES GRAN COUPÉ AT A GLANCE.