THE LATEST BMW 2 SERIES.
The BMW 2 Series models have been thrilling customers in the compact car segment since 2013 – these sporty, powerful, and yet practical vehicles guarantee the pure driving pleasure that is synonymous with BMW. Whether in an urban environment, on long journeys or in the countryside, the BMW 2 Series includes the right vehicle for every purpose – confident, extroverted, and dynamic.
Wild, rebellious, unique. The BMW 2 Series Coupé has everything that defines a sporty coupé. Its unmistakeably athletic design emphasises the driving dynamics that make it the best in its class. Perfectly-balanced 50:50 weight distribution, powerful BMW TwinPower Turbo engines and the intelligent BMW EfficientDynamics measures all define the coupé. Its dynamics culminate in the M235i, an engine capable of accelerating from 0 to 100 km/h in next to no time. Faithful to its slogan: Less rules. More performance.

Laid-back look, compact proportions – the first-ever BMW 2 Series Convertible. Its extroverted design language with short overhangs, powerful contours and a muscular rear reflect its self-confident nature. The Luxury Line, Sport Line and M Sport packages as well as a comprehensive range of Original BMW Accessories add further spice to this character. The BMW 2 Series Convertible follows nobody; it strikes out on its own. And the BMW M240i is even more impulsive. With its M TwinPower Turbo inline 6-cylinder petrol engine, it unleashes the dashing side of the BMW 2 Series Convertible and not only speeds up the airstream, but also takes driving pleasure to a whole new level.

Roomy, versatile, dynamic: With its compact, powerful proportions and elongated contours, the BMW 2 Series Active Tourer exudes sportiness - from whichever angle you look at it. In view of its compact exterior, the space available on the inside is positively astounding: Adjustable seats, a luggage compartment with folding floor and a seemingly endless number of stowage possibilities create a whole lot of room for a whole lot of functionality. With its combination of BMW eDrive and a petrol engine, the BMW 225xe Active Tourer offers both an electric driving experience and unlimited mobility.

For exciting day-to-day activities as well as comfort on long journeys: With its generously dimensioned luggage compartment, seating for up to seven passengers and countless storage possibilities, the BMW 2 Series Gran Tourer caters for all your comfort- and flexibility-based requirements. And it's not just intelligent: With its athletic contours and powerful 3-cylinder and 4-cylinder engines with BMW TwinPower Turbo technology, it cuts a sporty figure, too.

Model athlete for exceptional experiences: the first-ever BMW 2 Series Gran Coupé introduces a new form of authority with a bold character to the compact class. Flamboyant, unconventional and individual. It is above all the uncompromising powerful aesthetic that underlines its sporting personality. In combination with perfectly tuned driving dynamics features and high-end technologies, the BMW 2 Series Gran Coupé raises sheer driving pleasure to an entirely new level.
BMW 2 SERIES OVERVIEW.
Uncompromising, self-confident, and expressive: As the successors to the BMW 1 Series Coupé, the BMW 2 Series Coupé, Convertible and Gran Coupé are the continuation of its concept. The BMW 2 Series stands for powerful, compact vehicles – the best in their class. Naturally, this also applies to the BMW 2 Series Active Tourer and BMW 2 Series Gran Tourer, which combine sportiness and efficiency with flexibility and versatility to bring an extra dose of excitement and comfort to everyday life.
THE FIRST GENERATION.
BMW 2 Series Coupé (F22).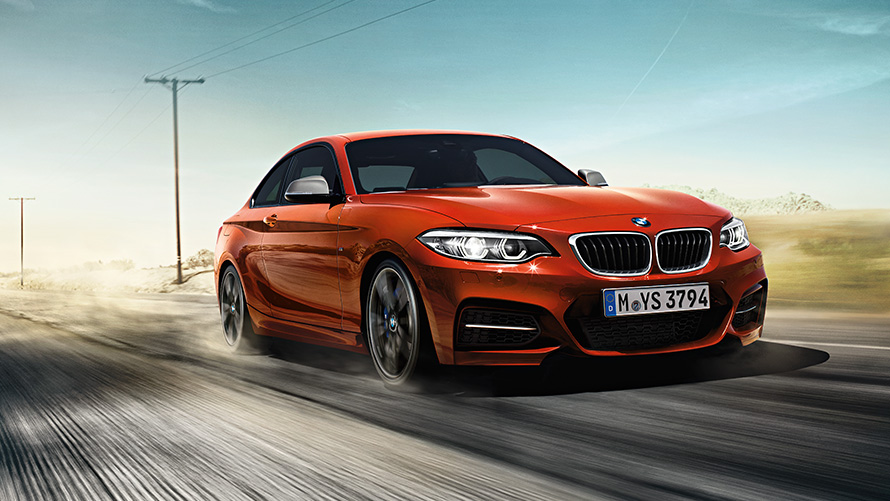 The successor to the BMW 1 Series Coupé set its own visual accents in 2013 and emphasized the vehicle's sporty character even more clearly with its flared rear wheel arches, athletic rear end and striking silhouette with sloping roofline. Following the model update in 2017, new front and rear lights ensured an even more commanding appearance. The front headlights featured LED technology as standard.

Agile engines delivered dynamic propulsion across the range, whether with a three-cylinder gasoline engine with a displacement of 1.5 liters or the M models, whose CS variant produced a brawny 450 hp (331 kW). The chassis quickly showed that these compact vehicles also carried the BMW DNA, with precise, clearly defined steering that ensured control in every situation.

Inside, the driver was supported by a wide range of assistance systems, such as active cruise control, which reacts to the speed of the traffic in front of the vehicle. In addition, infotainment systems able to stream music from the leading online libraries promised pure entertainment while on the road.

Production period: 2013 – 2021

Engines: 1.5 – 3.0 liters (100 – 331 kW, 136 – 450 hp), 3 & 6-cylinder

Length/width/height: 4,432 – 4,468 mm/1,774 mm/1,390 – 1,418 mm

BMW 2 SERIES CONVERTIBLE (F23).
The BMW 2 Series Convertible replaced its predecessor, the BMW 1 Series Convertible, in 2015. As with the Coupé, the sporty accents were now much more apparent, for example in the Convertible's shoulder line, which extended from the hood over the side beading to the vehicle's muscular rear. The fabric roof could be opened and closed at speeds of up to 50 km/h. Combined with the BMW 2 Series Convertible's agile steering, this ensured an even more direct connection to the road.

The same engines found in the Coupé enabled this compact, soft-top car to deliver a unique form of driving pleasure. The Convertible made no compromises – either in terms of aesthetics or driving performance.

Production period: 2015 – 2021

Engines: 1.5 – 3.0 liters (100 – 331 kW, 136 – 450 hp), 3 & 6-cylinder

Length/width/height: 4,432 – 4,468 mm/1,774 mm/1,390 – 1,418 mm
BMW 2 SERIES GRAN COUPÉ (F44).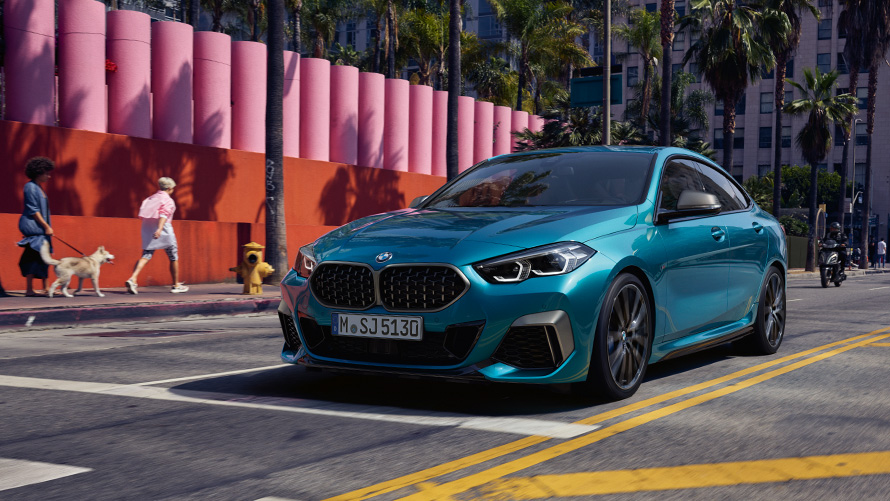 In 2020, the BMW 2 Series welcomed a new addition with no direct predecessor: the BMW 2 Series Gran Coupé. Exceptional through and through, it simply exudes confidence down to the last detail – from the BMW kidney grille with mesh design and an elaborate, three-dimensional structure, to the frameless doors and the sideline, which is raised towards the rear and creates a striking contrast with the sloping roof. Performance-oriented aesthetics meet individuality and extravagance!
This concept continues inside the BMW 2 Series Gran Coupé, where the optional fully digital BMW Live Cockpit Professional with two optional 10.25" screens and heads-up display shows the driver all relevant information in every situation.

In addition to the 3 and 4-cylinder turbocharged engines, some of which feature adjustable charge vanes, optional 7 or 8-speed Steptronic transmissions also ensure peerless driving performance.

Production period: 2020 – present

Engines: 1.5 - 2.0 liters (85 – 225 kW, 116 – 306 hp), 3 & 4-cylinder

Length/width/height: 4,526 mm/1,800 mm/1,420 mm
THE SECOND GENERATION.
BMW 2 SERIES COUPÉ (G42).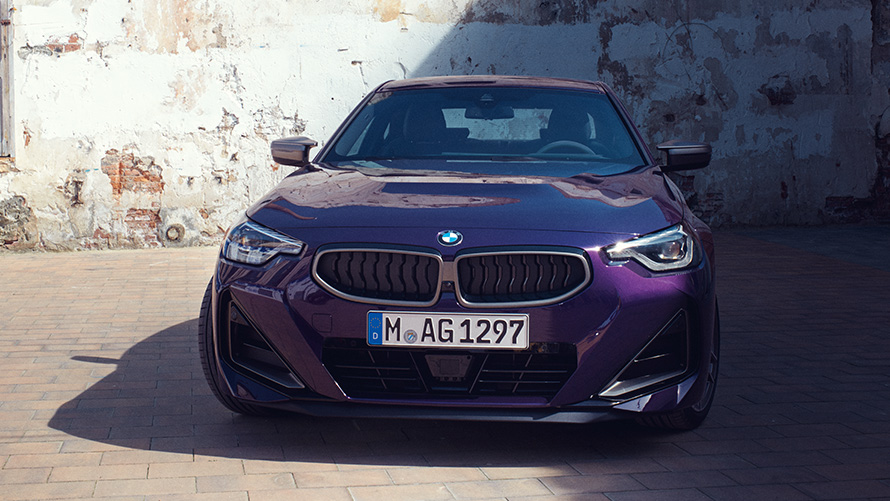 The BMW 2 Series Coupé, released in 2021, continues the tradition of sportive, compact but powerful vehicles: an emotional driving experience thanks to the rear drive unit and agile handling. The highly efficient, high-performance engines enable powerful acceleration in all driving conditions. And the optional adjustable sport steering ensures immediate response, minimal steering effort and precision when driving. With a 31 mm wider track compared to its predecessor, the vehicle boasts a superior visual appearance. Likewise, the new single-frame double kidney in which, instead of bars, kidney flaps open or close depending on the cooling demand required. The bi-LED single headlights are reminiscent of coupé legends such as the BMW 2002, and under the lights, triangular air intakes create a sporty appearance. Triangles are often repeated in the BMW 2 Series' Coupé design – as embossing in the inner door panels for example.

With the BMW Digital Key your smartphone will be able to open and lock the vehicle or even start up the engine. And if you are ever unsure whether you have locked your car – you can do so at any time while on the road via the MyBMW app.

Production period: 2021 – today

Engines: 2.0 – 3.0 liters (135 – 275 kW, 184 – 374 hp), 4- & 6-cylinder

Length/width/height: 4537 mm/1838 mm/1390 mm
​
Fuel consumption and CO2 emissions.
The values of fuel consumptions, CO2 emissions and energy consumptions shown were determined according to the European Regulation (EC) 715/2007 in the version applicable at the time of type approval. The figures refer to a vehicle with basic configuration in Germany and the range shown considers optional equipment and the different size of wheels and tires available on the selected model.


The CO2 efficiency specifications are determined according to Directive 1999/94/EC and the European Regulation in its current version applicable. The values shown are based on the fuel consumption, CO2 values and energy consumptions according to the NEDC cycle for the classification.

For further information about the official fuel consumption and the specific CO2 emission of new passenger cars can be taken out of the "handbook of fuel consumption, the CO2 emission and power consumption of new passenger cars", which is available at all selling points and at https://www.dat.de/angebote/verlagsprodukte/leitfaden-kraftstoffverbrauch.html.

All technical data are indicative only and varies as per market and configuration. For more information, please check with your local dealer for all fuel consumption and CO2 emissions.